Ideally we all want our children to have safe, organized rooms, but we don't want them to spend their whole lives cleaning. Yet, to be honest, we don't want to do it all ourselves. What can a parent do?
Make the room functionalUse whatever fits the decor or your price range
For younger children, hanging whole outfits — with socks and underwear — on those toddler hangers so the child can choose an outfit that looks good together.
For babies, keep all the items you need together. The changing table should include everything you might need to change your baby, including at least one spare outfit. Don't allow yourself, or someone else to be tempted to step away from the table without the baby. All of the baby bath items should be kept in a dish basin or a mesh bag. You can't leave a baby in a bath to get the shampoo and you don't want to carry a wet, squirmy infant through the house to get a towel! (Trust me, you don't!) A little organization can really pay off with infants.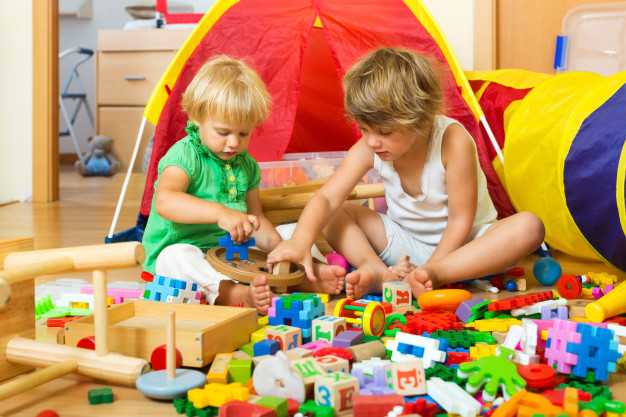 Consider wall-to-wall shelving
If you've been in a day-care center lately you have probably seen these. There's a good reason. It's hard to find what you want in a big toy box, so children tend to dig through it and toss or dump everything on the floor making a mess. If the toys are on shelves in plain view, your children will pick up what they want without disturbing the rest. Add some labels (words or pictures), and your little ones can put things back where they belong. Make it a matching game.
Assemble outfits for your older toddler.
You can put each outfit into a zipper bag or a paper bag (plastic might present a hazard with a young child).
Use special containers for the toys with small pieces.
If the cars can be neatly parked in a cardboard garage, it's more fun to put them away than if they all go into a shoe box. If Barbie goes into her "house," and her clothes are neatly packed in her "closet," she might get home more often than if she's in a plain covered box.
You don't have to buy these, decorate small cardboard boxes and use a bit of imagination. The pet nets that hang in the corners of rooms and the doll beds where baby dolls are put to sleep when the little mommy is busy elsewhere are other examples of this idea.
Limit the number of toys that are used at one time
I often hear the old "put this one away before getting the next one out" line. Some forms of play require several toys together. I'd like to suggest a more workable limit: If the toy isn't involved in the "game" of the moment, it must be put away now. If putting things away is a game and doesn't interfere with play, it just might happen!
Teach your toddler to pick up toys
As soon as your baby is walking and able to get toys out without your help, he or she should be learning to put toys away. We've discovered that if a child takes something for granted, like picking up after playing or having another baby brother, the adjustment is much easier. Expect your child to help. Help your child when needed. It won't work magic, but it will work in time.
You don't have to spend a fortune
But items one at a time, as you can afford, and check yard sales or secondhand stores. Use decorative or storage materials as a reward for keeping the room in reasonably good shape. Consider repainting or refinishing an old desk or bookshelf for the child's room. Consider milk crates or cardboard boxes covered in decorative paper. Look through one of the container stores or a catalog and imagine ways to duplicate some of the ideas with what you have around the house.
You can do it! Get those children's rooms organized!