Love is a feeling that brings people together. One of the most popular ways to express love is through engagement rings.
Celebrating Love: Stories Behind Famous Engagement Rings looks at some of the most iconic and memorable rings in history, from royal jewelers to Hollywood stars. From Queen Victoria's timeless diamond cluster ring to Jessica Simpson's fancy pink diamond, each story offers an insight into the beauty and power of love behind these famous symbols of commitment.
Dive into the history and romance behind these cherished tokens and discover what makes them so special – not just for those who wear them but for anyone looking for inspiration when it comes to making their romantic gesture.
History of Love: Famous Engagement Rings Through the Ages
The engagement ring is a treasured symbol of love and commitment throughout history. From ancient times to the present day, couples have chosen rings as tokens of their love for one another.
The history of famous engagement rings tells a story filled with romance, wealth, and power. In the 16th century, wealthy families gave extravagant gifts to mark engagements.
A typical gift from an aristocratic family might include pearls set in gold bands or elaborate designs featuring precious stones such as diamonds, sapphires, or rubies. These beautiful pieces often featured intricate carvings that represented symbols of eternity like hearts and doves or crosses as icons of faithfulness.
During the Georgian period (1714-1830), sentimentalism was at its height and so were grandiose jewels from this era – designed with more complex settings that included clusters of gems surrounded by delicate flower petals made out of diamond pavé workmanship. This type of craftsmanship is still seen in modern rings today! In the Victorian age (1837-1901) many women had access to jewelry that incorporated romantic symbolism such as intertwining serpents which stood for eternal devotion – making them popular choices for lovers around this period too! Rings also became bigger during this era, often featuring larger center stones alongside smaller accent ones; creating dazzling displays when light hit them just right.
Moving onto the Edwardian Period (1902 – 1910) saw a shift towards lighter ring styles using platinum metalwork along with filigree engraving techniques which allowed jewelers to delicately carve intricate patterns into metals like silver and gold adding yet more beauty to these timeless pieces! Lastly Art Deco Period 1920s saw bolder shapes becoming popular amongst betrothed couples – geometric lines along with bright colors being used in contrast against white stones made these stand out even further than before!
From Classic to Contemporary: Iconic Engagement Ring Designs
When it comes to celebrating love, engagement rings are a timeless symbol of commitment and devotion. From the earliest examples crafted from gold and precious stones by ancient cultures to modern designs featuring diamonds and gems, iconic engagement rings have captured hearts over the centuries.
Whether you're looking for something classic or contemporary, these famous pieces of jewelry offer inspiration for all tastes. The stunning 12-carat sapphire set in 18K white gold that Prince William chose for his proposal to Kate Middleton is one of the most iconic engagement ring styles in recent years. Another popular choice is Elizabeth Taylor's 33-carat diamond ring gifted by Richard Burton which features an impressive emerald cut stone surrounded by two triangles of baguette diamonds on either side.
For those seeking more contemporary designs, tennis player Andy Murray's yellow sapphire ring with its sunflower design provides an eye-catching alternative while Lady Gaga's pink heart-shaped diamond encircled by 14 round brilliant cut diamonds offers a unique take on a romantic style. For couples searching for vintage-inspired looks, Queen Victoria's ruby and diamond eternity band is an excellent option while Princess Diana's 18K blue oval sapphire surrounded by fourteen solitaire diamonds still holds tremendous appeal today.
If you prefer something less traditional why not opt for Zsa Zsa Gabor's striking cocktail cluster setting featuring rubies, emeralds, and sapphires? No matter what your taste might be there is sure to be an iconic engagement ring design perfect for expressing your love story!
The Stories Behind the Stones: Celebrities and Their Engagement Rings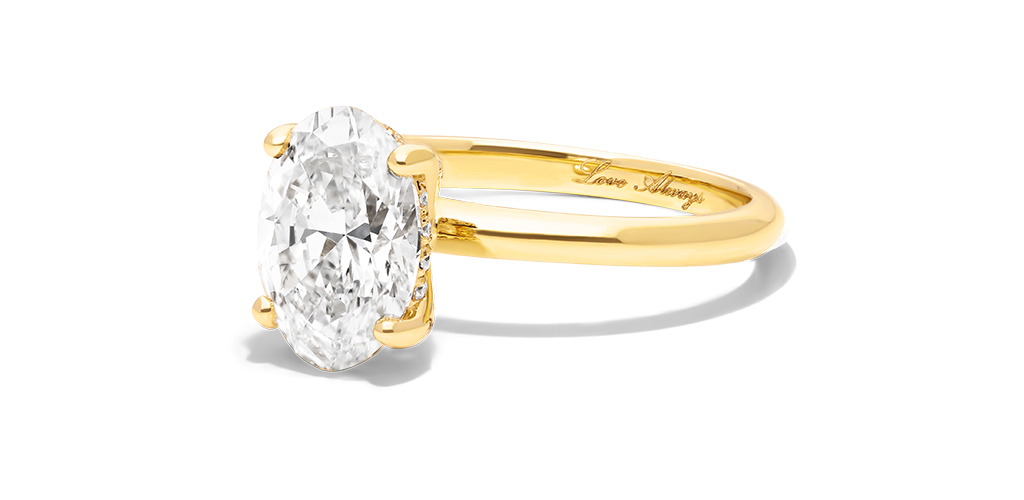 Engagement rings signify a time of immense joy, but also one of great importance. When it comes to celebrities, their engagement rings often have stories behind them that make them truly unique.
From custom designs and vintage pieces to family heirlooms, the choices these stars made for their engagement rings are as special as the occasions themselves. Here is a look at some famous couples and the stories behind their engagement rings: Angelina Jolie and Brad Pitt's matching wedding bands were designed by Robert Procop–a jewelry designer who worked with Angelina on her line of jewelry in 2012.
The set features two platinum gold-plated diamond bands featuring inscriptions from both partners; hers reads Quod mecum, while he says Non-time malum. Ariana Grande and Pete Davidson chose an iconic 3-carat diamond ring from NYC Greg Yuna Jewelers for their engagement in June 2018.
It was inspired by classic Art Deco designs of 1930s New York City architecture, with its emerald cut center stone surrounded by smaller diamonds along its distinctive pave band. Gigi Hadid received a stunningly simple yet elegant 6-carat oval diamond ring from Zayn Malik when they got engaged in 2019.
The solitaire gemstone sits atop an 18K gold split shank band which has additional small diamonds encrusted into it giving it a glamorous effect.. Kim Kardashian West's 15-carat Lorraine Schwartz sparkler was given to her by their husband Kanye West when they tied the knot back in 2014. This cushion-cut diamond was featured prominently throughout the couple's nuptials due to its sheer size and beauty!
Unforgettable Proposals and Memorable Moments in Time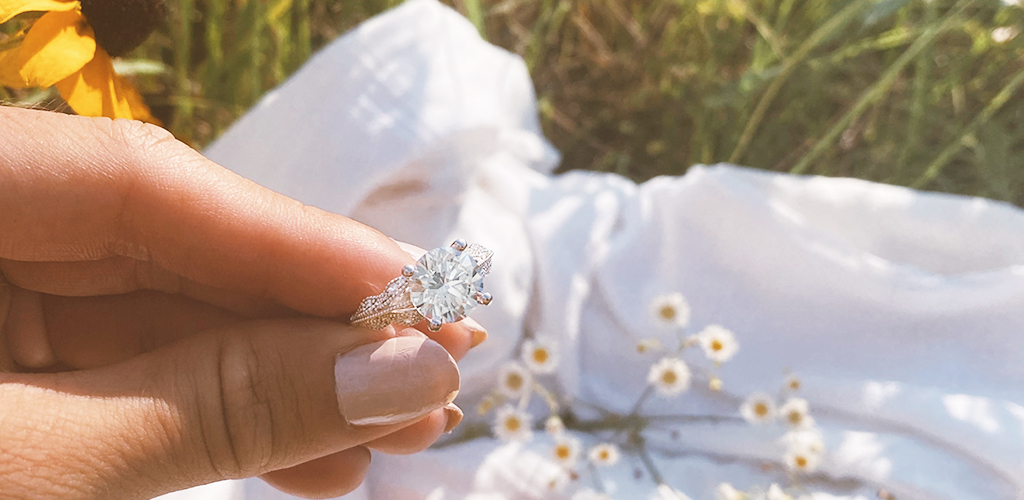 From Paris to London and beyond, countless couples have shared unforgettable proposals and created memorable moments in time with their engagement rings. From royal family members exchanging vows under the Eiffel Tower to a sweet surprise proposal on a beach in Hawaii – each story is as unique as the ring itself.
Take for example Prince Williams's stunning sapphire-encrusted ring that he presented to Kate Middleton during their special moment at Westminster Abbey. Or perhaps you know of Harry Winston's iconic diamond halo design that was worn by Jacqueline Kennedy Onassis? Every detail of these rings tells its own love story – from the exquisite cut of the diamonds to the intricate details in setting and band shape – they are all symbols of everlasting romance.
No matter where it happened or who was involved, every proposal carries its significance and beauty. Such moments can be incredibly moving, especially when we look back years later and remember that special day with fondness.
Whether your partner proposed over dinner at an intimate restaurant or through an elaborate scavenger hunt around town – those memories will stay close forever!
Symbolism, Tradition, and Personalization – Celebrating Love with a Special Ring
When it comes to celebrating love, nothing says I do quite like a special engagement ring. Not only are they symbols of commitment and devotion, but the rings also serve as timeless reminders of tradition and personalization.
From antique jewels to modern designs, couples around the world are creating unique stories behind their engagement rings – weaving together symbolism, tradition, and their very own personalized touch. Through careful selection of thoughtful design, many have chosen pieces that reflect a shared history or cultural meaning – from beloved family heirlooms to regionally specific motifs such as Claddagh rings originating in Ireland.
Others opt for something more one-of-a-kind; contemporary styles crafted with unusual gems or intricate details that offer an unexpected twist on traditional jewelry. No matter the choice though, every couple's story is special – complete with its own set of values and traditions all packaged into one beautiful symbol: The Engagement Ring!
Conclusion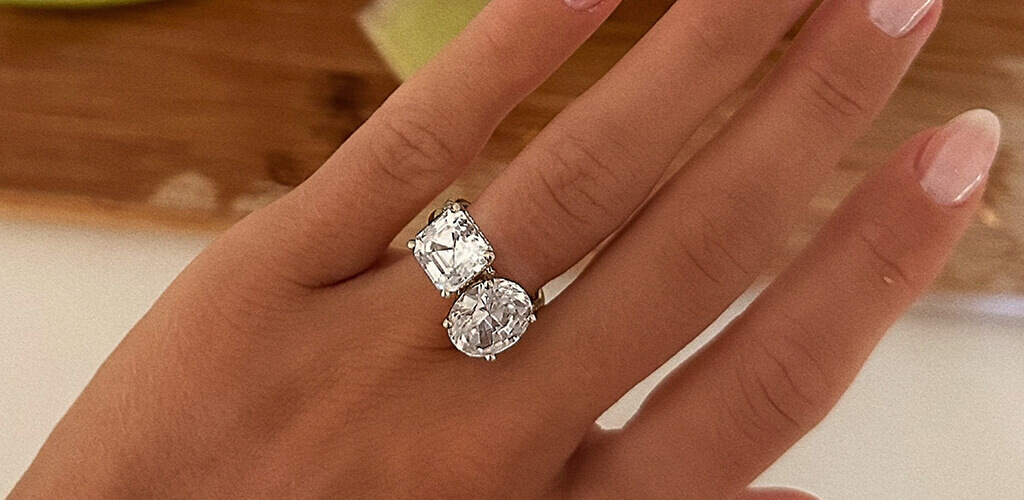 An engagement ring is a timeless symbol of love and commitment, one that has been celebrated for centuries. From the famous rings worn by celebrities to those exchanged between everyday couples, each ring is a unique representation of the special bond that two people share.
To commemorate such an important milestone in life, it's no wonder why these pieces are so cherished and admired – they represent an eternal promise of love and companionship. All in all, celebrating love through engagement rings can be both beautiful and powerful – a reminder of how far we've come since our first beginnings as human beings.