Are you ready for the cycling trip of a lifetime? Whether it's your first time on two wheels or you've been pedaling around for years, some essential items will make sure your journey is an unforgettable one. From protective gear to snacks and hydration packs, here are four things to bring with you on your next cycling adventure.
Pack these supplies and get ready to hit the road!
Appropriate Clothing
When packing for a cycling trip, it is important to think about what type of clothing you should bring. Depending on the duration and location of your trip, different types of cycling apparel may be more appropriate or necessary than others. Generally speaking, it is wise to wear breathable fabrics such as cotton or lightweight synthetic materials that will keep you cool in warmer climates.
Consider bringing items like short-sleeved shirts, shorts, or capris made from lightweight material that won't cling to your body when wet with sweat. Also, consider adding layers like a long-sleeved shirt and light windbreaker if temperatures are cooler during your ride.
Pack bike gloves so your hands don't get too sweaty while gripping the handlebars and moisture-wicking socks to keep your feet dry all day long. Don't forget an extra pair of regular shoes for walking around at night after a full day spent on the bike seat! Lastly, make sure you have some comfortable clothes such as yoga pants or sweatshirts to relax in once you reach home base each evening.
Necessary Gear
When you are headed out on a cycling trip, there is some necessary gear that you should bring. It's important to make sure that your bike is in top shape before leaving for the journey, and having extra tools handy such as an air pump, patch kit, tire levers, and multitool can come in very useful if any unforeseen mechanical issues occur.
Additionally, it's vital to have water bottles or hydration packs filled with water so you stay properly hydrated during your ride. Other items to consider bringing include sunglasses for sun protection; a first-aid kit; spare tubes; energy bars and snacks; lights if you plan on riding at night or early morning hours; clothing appropriate for the weather conditions (including rainwear); and a lock for when parking your bike while taking breaks throughout the day.
Food and Beverages
Packing for a cycling trip requires some forethought when it comes to food and beverages. Depending on the length of your journey, you'll need to plan accordingly so that you can stay energized and hydrated throughout the day.
When selecting snacks or meals, try to opt for something lightweight yet nutritious – think protein bars, trail mix, and energy gels. Other items like jerky or dried fruit make great additions as well.
For drinks, bring along plenty of water bottles filled with fresh H2O or electrolyte-infused sports drinks if you're planning on being out in the sun all day long. If all else fails, there's always coffee!
First Aid Supplies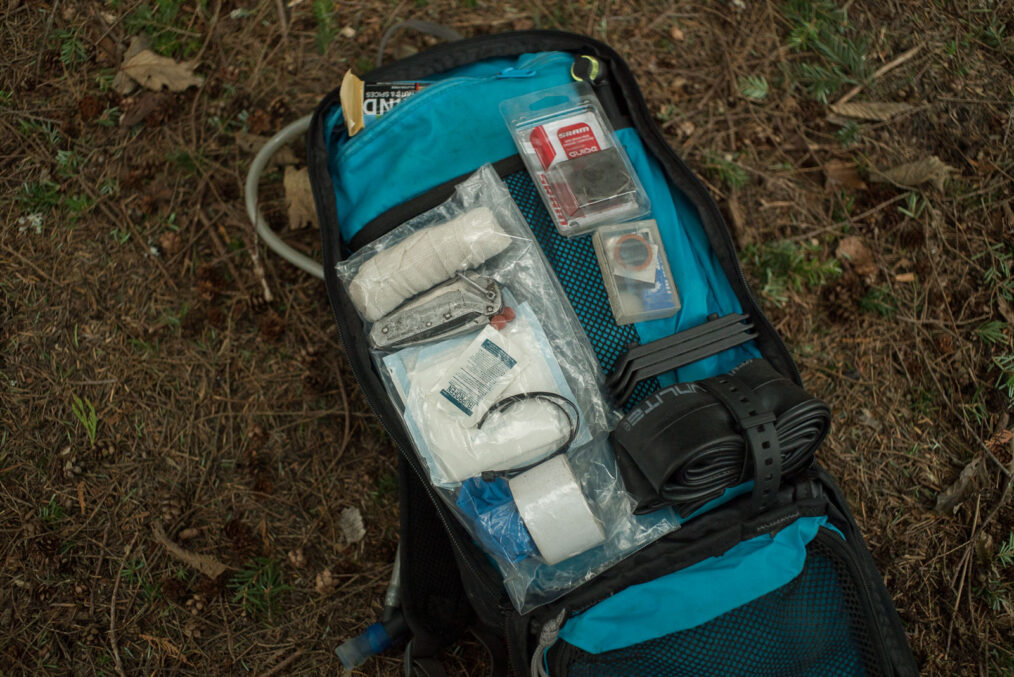 No cycling trip is complete without the proper first aid supplies. A comprehensive first aid kit should include bandages, an antibiotic ointment, pain relievers like ibuprofen or acetaminophen, tweezers, and scissors for removing splinters or ticks, antihistamines to reduce swelling from insect bites or stings, and a thermometer. An extra set of batteries for any devices you may be bringing can also come in handy in case one runs out on your journey.
Additionally, items like sunscreen lotion with SPF 30+, lip balm with SPF 15+, hand sanitizer wipes, and spray disinfectant are all great additions to ensure your safety during a cycling trip. Keep these items close by so that should any incident arise on your travels they're easily accessible!
Conclusion
Cycling is an exciting and enjoyable activity that can be enjoyed by people of all ages. Before you embark on your next cycling trip, make sure to pack the essentials: a helmet, pump, patch kit, water bottle/hydration system, and cycling apparel.
With these items in tow, you are ready to hit the trails or roads for a great day of riding!