So what is a Brazilian Blowout? The Brazilian Blowout is a relatively new hair smoothing treatment that is designed to help users achieve straight, manageable, and healthy hair without forcing them to complete multiple treatments.
Effective and safe, Brazilian Blowout produces consistent results that help people who have become frustrated by dry, frizzy, hair that is difficult to style. Learning about Brazilian Blowout prior to using it for the first time will help make sure you do not invest in a product that is not right for your hair.
What You Need to Know About Brazilian Blowout's
There are certain things that you should research before asking your stylist to use Brazilian Blowout on your hair. These things are:
Application Process
Time Between Applications
Improving Results
Spending time learning about these three aspects of Brazilian Blowout will increase your chances of benefiting from a well-reviewed hair straightening product.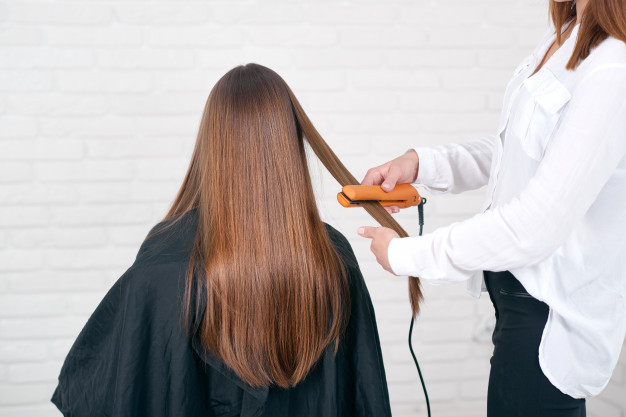 Brazilian Blowout: Application Process
Unlike some hair straightening products, Brazilian Blowout must be applied by a professional hair stylist. There are several salons that are registered as Brazilian Blowout approved salons, and finding one is the first thing that you must do when interested in trying the product for the first time. Once you've found an approved salon, talk to your stylist and find out if the product is a good choice for your hair type and preferred hair styles.
When your stylist is sure that the product will help your hair rather than damaging it, your hair will be washed with the Brazilian Blowout anti-residue shampoo and toweled dry before dividing the hair into multiple sections. 
Next, the Brazilian Blowout solution is applied to the hair from the roots to the tips using an application brush before being dried using a hair dryer with brush for straightening. 
After the hair is completely dry, the stylist will rinse your hair, towel it dry, and apply a conditioning treatment for 60 seconds before rinsing your hair for a final time.
Time Between Brazilian Blowout Applications
There are several hair straightening treatments that must be repeated weekly, or monthly, in order to remain affective. Brazilian Blowout is one treatment that will last for several weeks before application must be repeated.
The average time between applications is 10 to 12 weeks, with some users reporting results that last as long as five months. Stylists will often schedule return visits on the day they complete the treatment, but many people who have benefited from the treatment prefer to wait until they notice their hair becoming unmanageable before scheduling another application.
Improving Brazilian Blowout Results
In order to increase the time needed between treatments, there are a few things that you can do to improve the quality, and duration, of your results.  When you receive your first Brazilian Blowout treatment, be sure to keep your hair straight and flat for at least 72 hours.  This means no ponytails or other styles that could make your hair wavy or less manageable.  Also, once the 72 hours have passed wrap your hair when sleeping to help keep it smooth at night, and avoid using styling products that dry out your hair removing the Keratin and other follicle enriching properties of Brazilian Blowout.