In the summer season when we got high temperatures, many brides and bridesmaids are shopping for modest bridesmaid dresses for their fall and winter weddings. The top trending colors for this season include chic options like terracotta, rusted colors, vibrant emerald, maroon, burgundy, and warm browns  — perfect hues that will flatter every figure.
Whether you are looking to make a statement or keep it subtle with muted tones, these shades offer something for everyone. So whether you're planning your wedding or attending as a guest of honor, check out these chic and covered dress choices – they will give you a stunning bridal party look and a memorable day!
Classic Colors for Modest Bridesmaid Dresses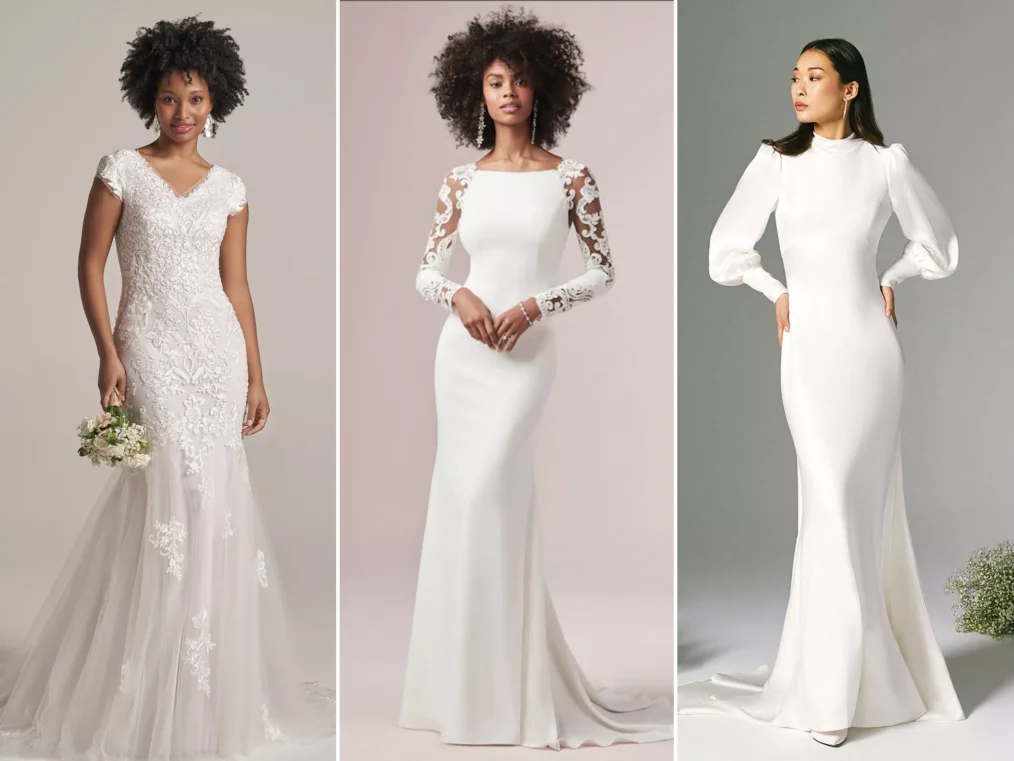 Something timeless will never go out of date. Modest bridesmaid dresses stand out not only because they are universally flattering, but also offer more coverage and warmth for cool and cold weather in fall and winter.
When it comes to color, several classic options can make any bridesmaid feel confident and beautiful. Popular picks include navy blue, dusty pink, or even champagne hues – all of which offer subtle sophistication while still being fashion-forward. If you're looking for a more vibrant option, shades of mauve or lavender could be just what you need to add some eye-catching flair! No matter your preference, these colors will ensure your wedding party looks picture-perfect with minimal effort required!
Bold Shades that Make an Impact
If you're looking to make a statement with your bridesmaid dresses, bold shades are the way to go! From deep navy blue and sultry burgundy to cheerful coral and warm pink, modern brides have no shortage of options when it comes to picking out eye-catching colors for their wedding party.
These hues not only look good on nearly all skin tones; but they also pair well with various types of fabrics from satin and chiffon to tulle and lace. So don't be afraid to take risks: try something unexpected like bright yellow or even electric green for a truly memorable color palette that will leave an impact on your big day!
Timeless and Flattering Hues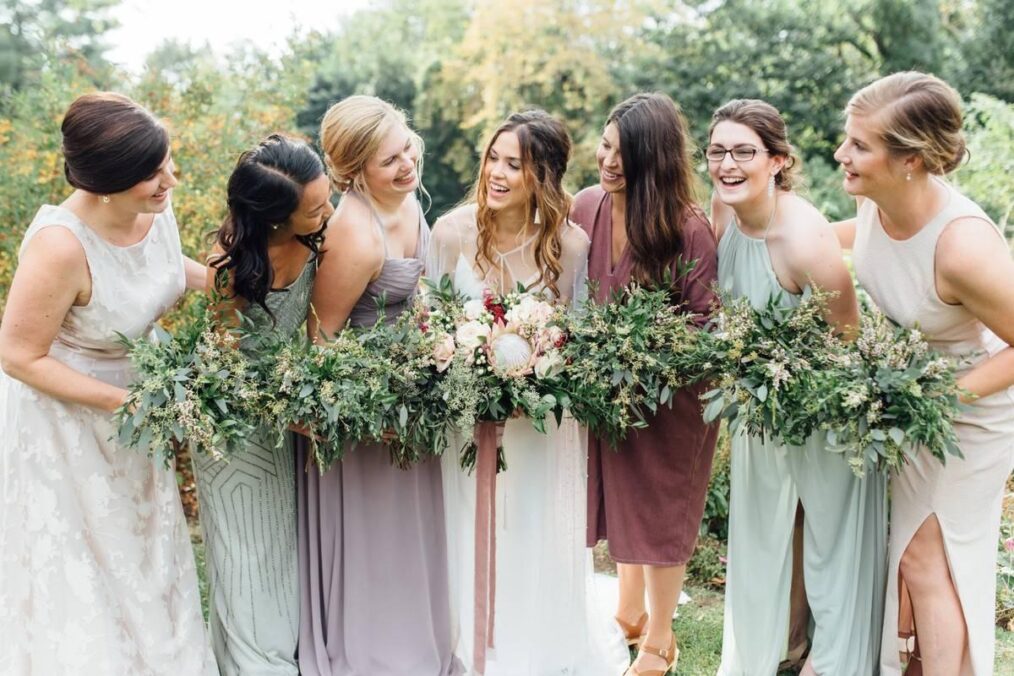 From muted tones to bright jewel shades, timeless and flattering hues are a must-have for the perfect bridesmaid dress. Whether you're looking for something classic or more modern, there are plenty of top trending colors in modest styles to choose from.
Soft blush pinks pair beautifully with deeper mauves while navy blues look great alongside statement greens. More daring color combos like pastel lilacs and yellows create a stunning contrast against light grey chiffons. For an edgier feel, try teaming deep burgundy reds with black lace fabrics for a subtle monochromatic effect that will have your bridal party sure to stand out on the big day!
Conclusion
Modest bridesmaid dresses are currently popular and provide fashionable and modest choices for today's brides. They offer a range of styles, colors, fabrics, and lengths to suit different preferences. By selecting muted tones or vibrant shades like navy blue or pink blush, bridesmaids can create striking appearances while maintaining their modesty.
These dresses allow the wedding party to make a memorable impression without sacrificing their sense of decency. With numerous options available in the market, modest bridesmaid dresses present an elegant and tasteful choice that combines style and sophistication.