With the recent halt in in-store shopping due to the Coronavirus pandemic, it seems as if many fashion retailers are scrambling to find a way to survive in a strictly online world.
Many businesses are making bold moves to continue building revenue, or simply make enough revenue to stay afloat. Moves include shopping via live videoconferencing, offering discounts, free shipping, and even free same-day delivery if you live within a certain radius of the store. 
There is one fashion retailer however, that has been thriving not just online, but specifically through social media, for the past five years. Fashion Nova is an American-based fast fashion retail company.
Launched in 2006, the company began with a retail space inside a shopping mall in Los Angeles, California.
Founder and CEO Richard Saghian noticed that online sales of similar items were selling faster, and at a higher price point, but simply building an e-commerce site didn't seem like enough. 
The success of Fashion Nova
Whether you call it luck, or simply the benefit of living in the City of Angels, Fashion Nova saw many high-brow clients shopping in its store regularly.
This, coupled with the explosion of social media in the past decade, prompted Saghian to take a different spin than your typical e-commerce site and build an empire based on the art of social selling. 
Fashion Nova launched its Instagram page in 2013, and before even launching the e-commerce site that would follow in the same year, they already had over 60,000 followers.
He began by taking and posting photos of his best-selling items and encouraging his customers to do the same. 
Talking with the clientele that regularly stepped foot in the location in the Panorama Mall, Saghian quickly realized that many of his shoppers were already tagging Fashion Nova on Instagram in their #OOTD photos.
Saghian now works with celebrities such as Kylie Jenner and Cardi B to continue to build his brand and the company's sales.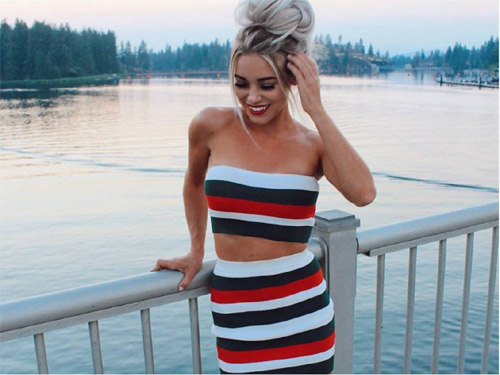 The team actively recruits all individuals to become a #NovaBabe and join the #NovaSquad team of Instagram influencers because they know that nothing is more powerful than a personalized recommendation.
Fashion Nova is proud of its image and brand in promoting its clothing with a mix of diverse models, celebrities, influencers, and customers.
Fashion Nova has received praise for showing real bodies of all shapes, sizes, and colors on its website and on social media. 
As demand for the clothing line grew on Instagram, FashionNova.com launched and all items sold out in just one weekend.
While Saghian was thrilled with his success, he knew that the world of fast-fashion was now moving at an ultra-fast pace.
To keep up with demand, Saghian has built partnerships with local manufacturers to continue a fast and steady stream of merchandise, along with creating new, runway-inspired styles for all women (and now men) to feel sexy, empowered, and like the ultimate fashionista.
The future of retail sales
It seems like Saghian and Fashion Nova have it all figured out. In 2018, Fashion Nova led Google for most searched fashion brand. In just five short years, Fashion Nova has built an annual revenue of over $100 million and employs over 600 people.
Shifting the original business plan of multi-unit expansion across the country, Fashion Nova now has five stores in greater Los Angeles while they place the majority of their focus on Instagram and the influential power of social media.
The company is constantly creating new Instagram posts—one every 30 minutes—and comments on each tagged post.
Fashion Nova wants its customers and followers to promote their products, not simply because it has proven effective to increase sales, but because it provides an opportunity for those customers to feel empowered and admired as cultural trendsetters.
Is social media the future of retail sales? According to statisticians and web developers like HubSpot that specialize in marketing, sales, and customer service—YES!
Fashion brands and retail companies should look at the empire that Fashion Nova has built with this model. 
The act of social selling utilizes social platforms to engage with current and potential clients and share thoughtful content with the objective of increasing sales.
A 2018 analysis found that 28% of companies are prioritizing social selling within their business model because it is so effective. 
Additionally, 43% of e-commerce purchases are influenced by personalized recommendations or promotions.
Social media influencers and celebrities are trusted more than professional, governmental, and political figures by those aged 16-34. 
With that kind of influence, fashion brands and businesses owe it to themselves to look toward building not only a following on social media, but strategic partnerships with social dominant figures and an army of micro-influencers to create trends through awareness and personal endorsements.
Social selling is the future and brands that step up are sure to see the return on investment.