Many kids are absolutely obsessed with dinosaurs. They are intrigued by these mysterious creatures, and they want to learn everything about them, even the complex names. They can spend hours just looking at the books about dinosaurs, and they probably want to get every single toy they lay their eyes on.
The great thing about these toys is that they come in so many forms, from good old-fashioned stuffed toys to interactive ones. The bottom line is that all you have to do is find the age-appropriate one for your child. Here is a list of toys that keep toddlers entertained for quite some time.
1. Little Jurassic Chomp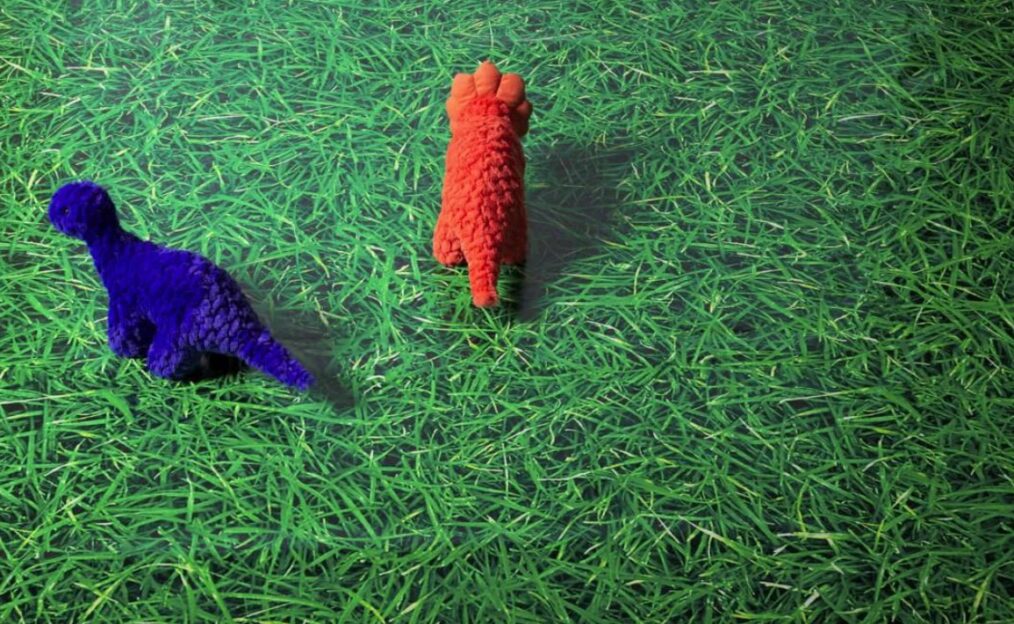 First things first, we need to begin this list with a stuffed animal. Is there a child that doesn't love these? No, there isn't. We all had our favorite stuffed toy, and in some cases, it was our security blanket we couldn't leave behind. This plushy can start as a decorative item in the kid's room, but it won't take long before it becomes their absolute favorite one. Plus, it will surely open the doors to this entirely new mysterious world for them to explore are they get older.
2. Jumbo Sorting & Counting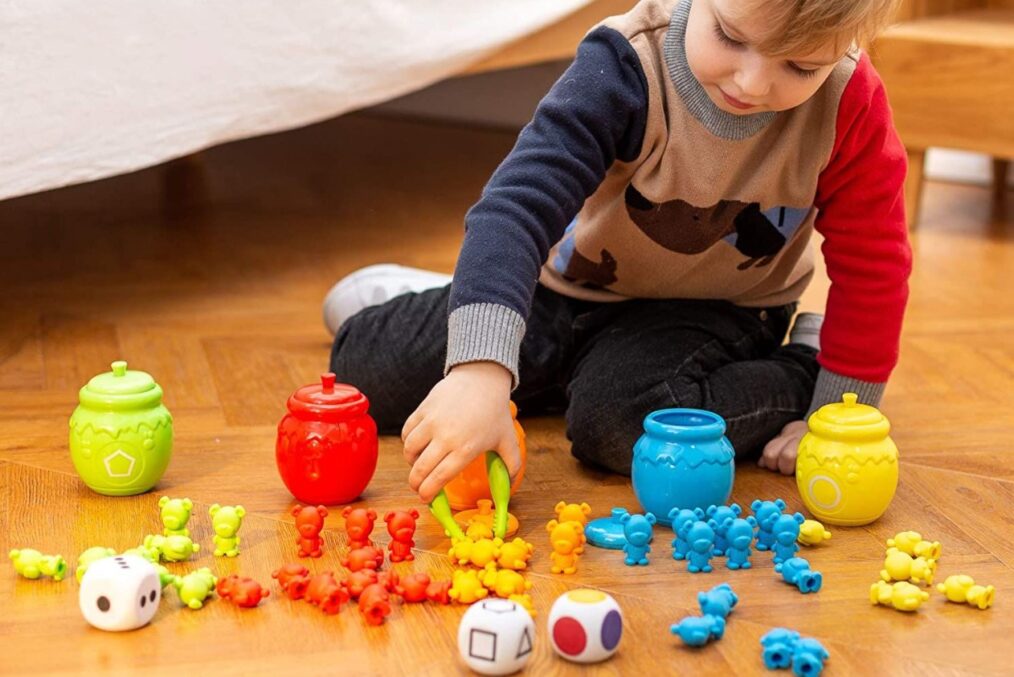 On the other hand, what kid wouldn't love to have an entire dinosaur set? This one comes with 48 figurines, six cups, a T-Rex egg grabber, and two wood dice. Yes, this is a lot, and it may not seem like an excellent game for a 3-year-old, but the truth is that it can be enjoyed in a variety of ways. When it comes to the youngest one, it is great for developing motor skills and patience. They can use the egg grabber to pick the figurines and place them in cups of the same color. You can help them learn the colors by throwing the color dice, and their job is to match the dinosaur and the cup. As they grow older, you can incorporate the dice with numbers and teach them basic math skills.
3. Toy-Velt Dinosaur Set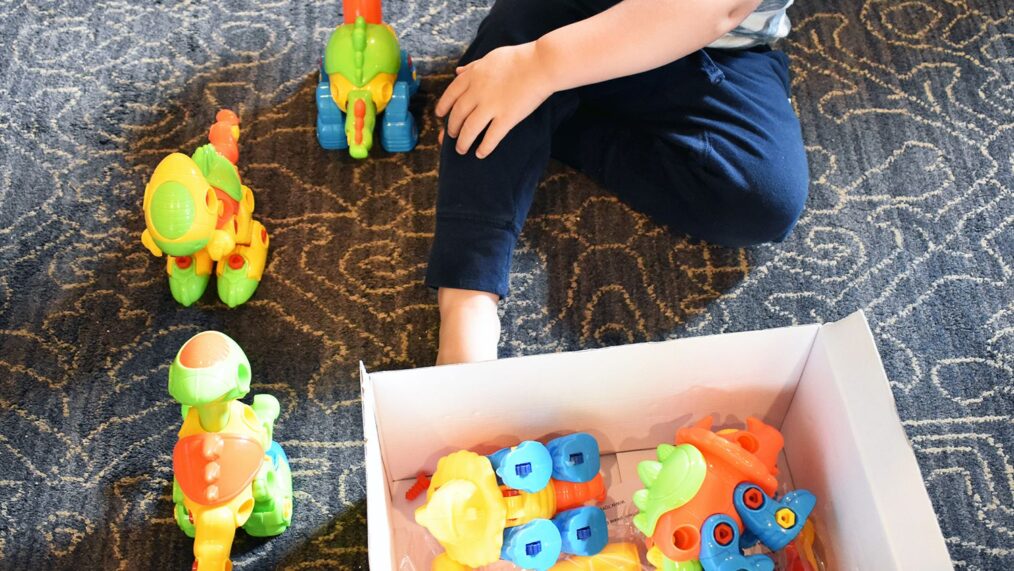 When looking for new toys for your toddler, you probably want to get them something that will enable them to develop their imagination. Yes, playing with interactive toys and developing the above-mentioned skills is always a great thing, but creativity is the most important thing for young kids. Well, it is precisely what this set will do. It comes with 20 figurines, many trees and rocks, and a big play mat. These dinosaurs aren't only hand-painted, but they are pretty large, meaning the kid won't be able to put them in their mouth, and you won't have to worry about them being a choking hazard. In addition, you can visit this website to purchase additional figurines to expand this or other dinosaur playsets.
4. Peaceable Kingdom Memory Game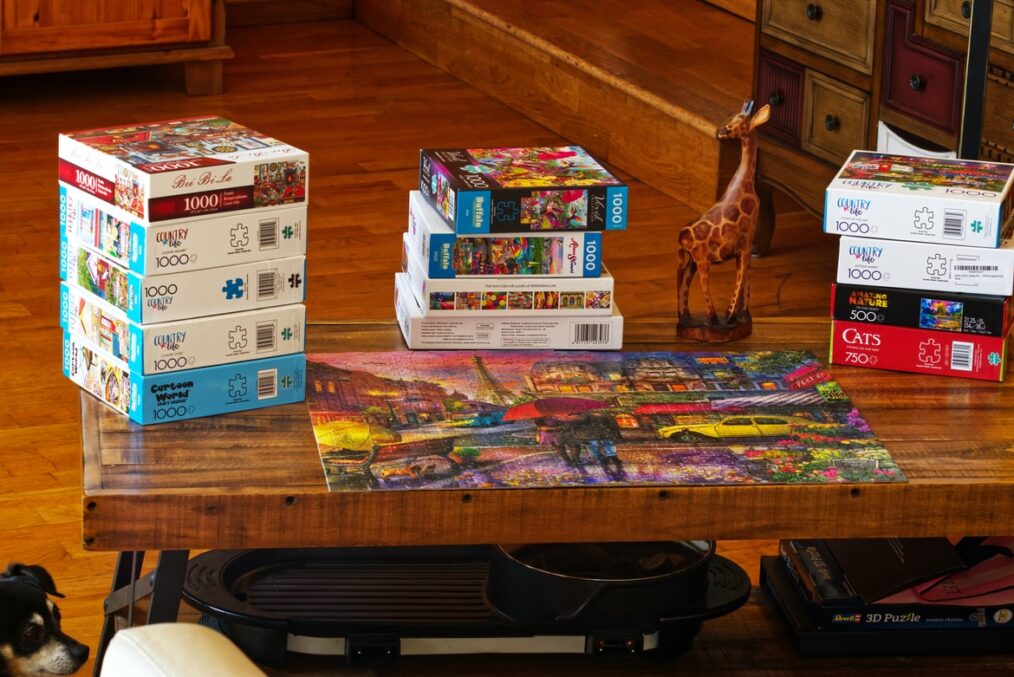 If your toddler is fascinated by puzzles, this game needs to be on your list. It contains 24 durable and brightly colored puzzle cards that will help your child develop cognitive skills. You can teach them about the dinosaurs and boost their recognition skill, or turn all the cards down and let them play a memory game. You can also take it a step further and enjoy a traditional puzzle. The game is designed for kids between the age of 2 and 6, meaning that it is just challenging enough to put in some effort but not to get them frustrated.
5. Jigsaw puzzle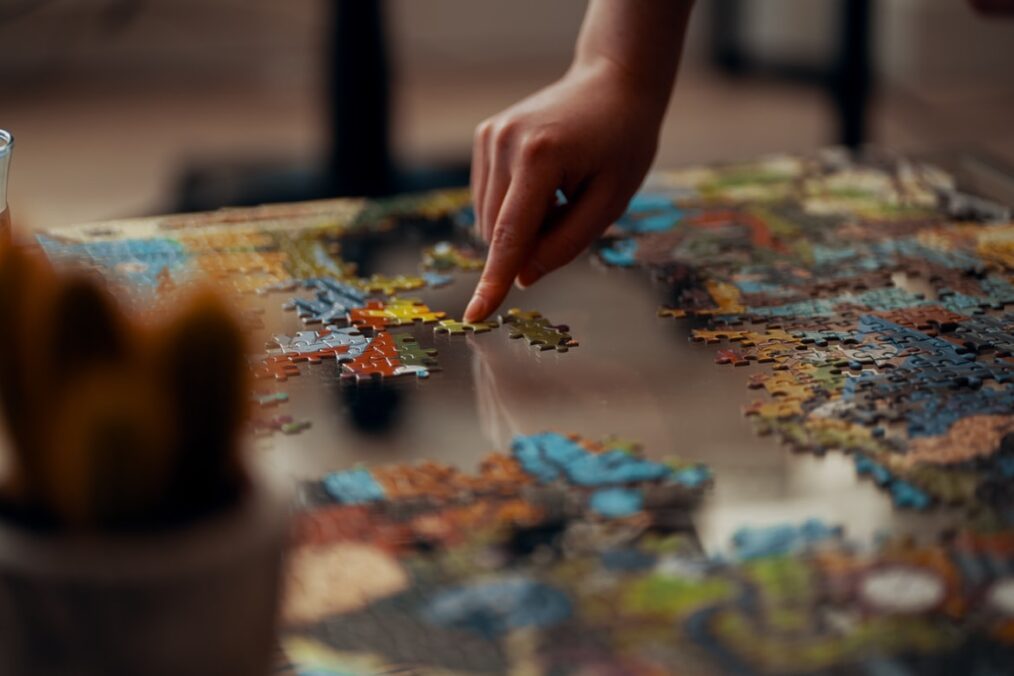 Even though it is similar to the previously mentioned game, we are talking about a traditional jigsaw puzzle. When it comes to these, your options are pretty much endless. You can choose between an abundance of pictures and colors, as well as the size of each piece and the overall puzzle. We are not even going to discuss the benefits these can offer your child besides the endless hours of fun. The only thing you have to consider when purchasing a jigsaw puzzle is the sturdiness of the pieces. Your toddler won't be very gentle with them, so you should go with the wooden ones for starters.
6. Melissa and Doug Dinosaur Magnets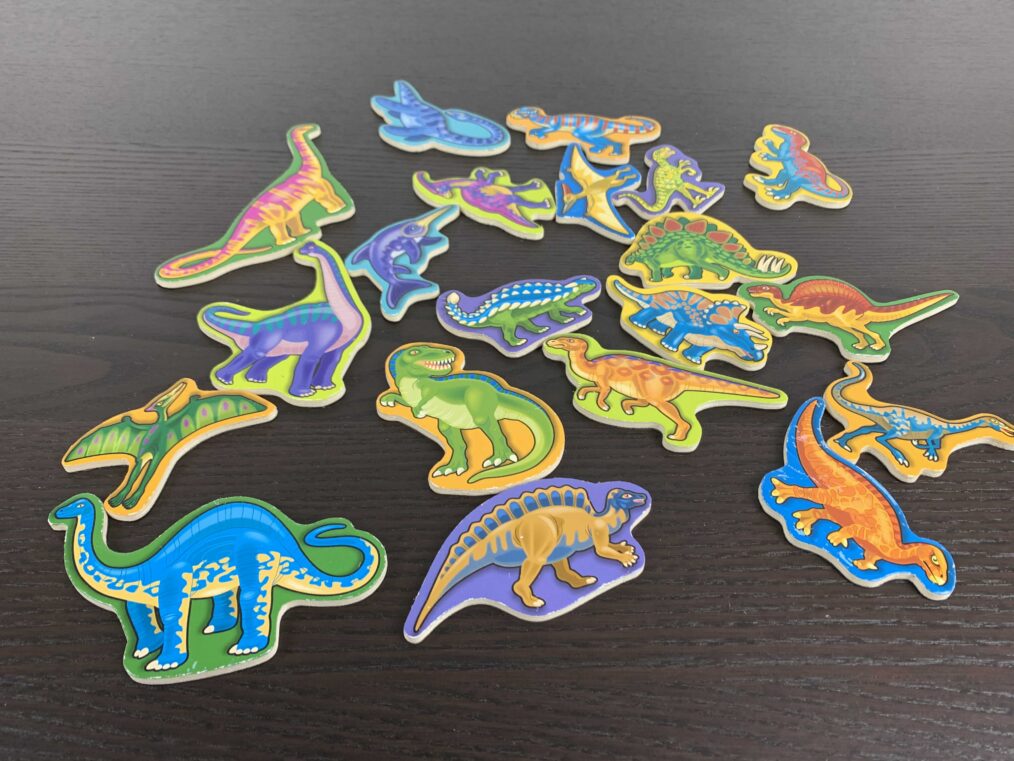 Kids just love magnets. This is a well-known fact, and if you want to distract them from the travel souvenirs you have on your fridge, this game needs to be in your shopping cart. The box comes with 20 dinosaur magnets, all in vibrant colors that will grab your toddler's attention immediately. These come with the description of each figurine, which is a great way for your child to learn their names and some basic details. The items can easily be attached to any magnetic surface in your home, which will enable your 3-year-old to design a kingdom of their own every time.
7. Kidtastic Dinosaur Construct and Play Set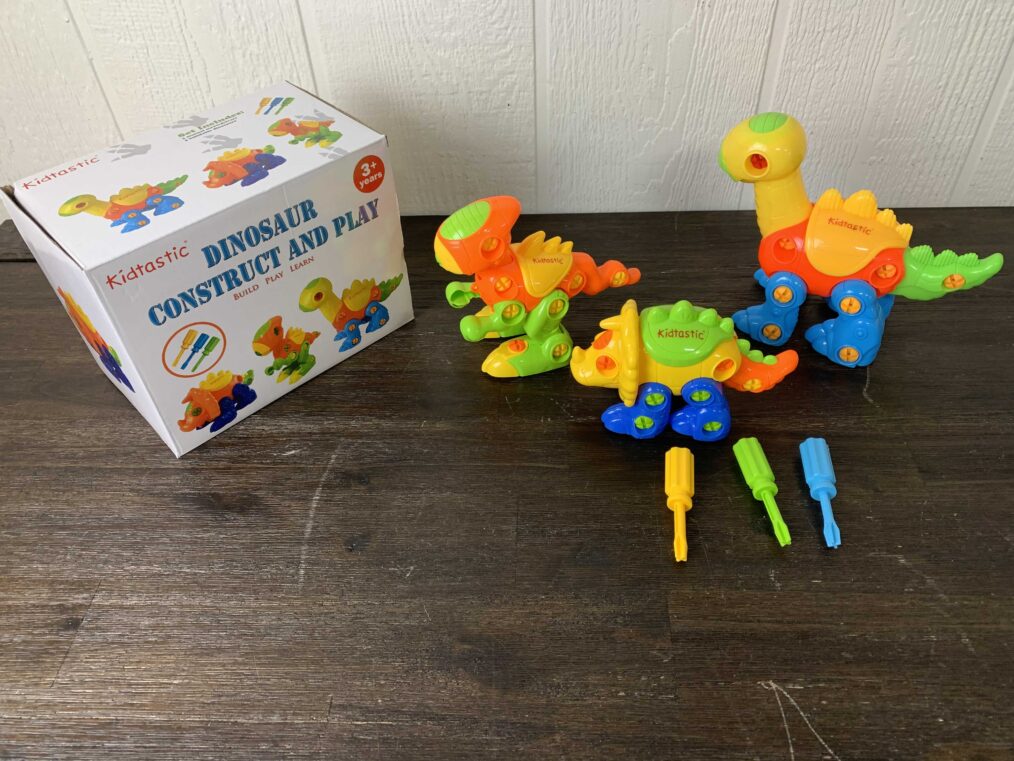 The main feature of this box is that all the toys come assembled, so your child can start playing with them immediately. They will have a chance to inspect every figurine and then deconstruct them. This is a challenging part for them. Now, they have to figure out how to assemble them back together. The box includes three large dino toys (T-Rex, Triceratops, and Alamosaurus) and three screwdrivers as needed tools. This game will help them with their motor skills and teach them patience and problem-solving techniques. Once you purchase this set, you will also have an opportunity to download a coloring book. This is actually a DIY project for your child, which they can complete on their own or collaborate with friends or siblings.
Wrapping up
To sum up, these are only some suggestions we have for you. As you can see, all of these toys boost your child's development through fun games and little projects. Surely you agree with us that this is the most important feature. All of these are available on Amazon, so all you have to do is choose which ones you want to purchase. Obviously, you should go with something you know your 3-year-old will find appealing and can keep them entertained for hours at a time.